I know that most teams probably aren't completely done tinkering their rosters, but still, we have a pretty good idea the direction that teams are generally moving in for the upcoming season. I'm writing these things up under the assumption that everyone is healthy, so it's a fairly ideal situation. Both
Tony Parker and Ian Mahinmi are currently playing for the French national team
, so it's an added risk, but both are young and so I have no major qualms about it. In fact, it'll probably be good for Mahinmi to familiarize himself with Parker and get some playing time under his belt, getting him in shape and working off some of that rust from injury last season.
As the 2nd through 7th seed are usually somewhat up in the air come playoff time in the Western Conference, and with the San Antonio Spurs usually falling somewhere around 2nd-4th, I realized I'm probably going to be writing about most of the teams in the West, as all of them are potential opponents then in the playoffs. I'm reserving the Lakers to have the better regular season again being top of the Western Conference going into the postseason and I'm leaving the 8th seed (the guys who play the Lakers in the first round) as a tossup between either Phoenix or Houston. That being said, this is a rematch from two years ago, where the Hornets were the cinderella team, barely ceding a tough 7 game series to the more experienced San Antonio Spurs. I can't really say the team's improved significantly, if at all, and while we were all enamoured of the team, honestly, there isn't much to it other than Chris Paul. Okay, that being said, let's just jump into it.
San Antonio Spurs
PG - Tony Parker, George Hill
SG - Roger Mason, Manu Ginobili, Malik Hairston
SF - Richard Jefferson, Marcus Williams, Michael Finley
PF - Antonio McDyess, Matt Bonner, DeJuan Blair, Marcus Haislip
C - Tim Duncan, Ian Mahinmi, Theo Ratliff
New Orleans Hornets
PG - Chris Paul, Antonio Daniels, Devin Brown
SG - Rasual Butler, Morris Peterson, Darren Collison
SF - Peja Stojakovic, James Posey, Julian Wright
PF - David West, Ike Diogu
C- Emeka Okafor, Hilton Armstrong
Uh.... wow. Okay. I'm not really sure where I should start with this. I've already talked a little about what
Emeka Okafor brings
to the Hornets, so let's start there. For all extensive purposes, Emeka Okafor is Tyson Chandler with offense, I'm not sure he has enough of an offensive game to really be able to effectively get around Duncan's stellar post defense, but he is younger and more athletic, though he is also smaller. However, Okafor is probably good enough defensively to give Duncan some problems, he is one of the better defending big-men in the league, and Duncan isn't really getting any younger, so it's hard to say. Frontcourt depth is something of an issue, as always for the Hornets, Julian Wright just hasn't worked, which leaves the frontcourt legitimately 4 deep, with Ike Diogu being relatively unknown as no one has felt inclined to play him, and Hilton Armstrong being serviceable at best. I get the feeling that Pop would probably try to overwhelm them by giving them a number of different looks, as the Spurs boast a frontcourt that's 7 players deep, by mixing and matching Duncan, McDyess, Mahinmi, Bonner, Blair, Ratliff, and Haislip the Spurs frontcourt will always be fresher for one, and the variety of players (despite Blair, Haislip, and Mahinmi being relative unknowns) could pose a lot of matchup problems for Byron Scott as well as wearing out his already short-handed frontcourt. There is also the possibility that if the Spurs are playing a little smaller, Scott might slide Posey to the PF slot to guard someone like Bonner, but there are just too many mismatches to exploit. While I think West might currently be the better player than McDyess, I don't know that it's enough of an edge to make a huge difference, their games are similar enough that I'm sure McDyess has ways to keep him from getting into a groove with that 20 footer.
The big story of the 2008 playoffs was how Tony Parker and Chris Paul were continually going at each other, especially after Pop moved Bruce Bowen back from guarding Paul just so he could keep a hand in Peja's face. 2010 is going to be a pretty different picture though, why? Well, for one, Paul probably won't get much of a break, even when Parker's not on the floor, in fact, I would say that Hill would probably give Paul a harder time on the floor than Parker would, and if Paul is expending that much energy just trying to keep his team afloat, it makes it harder for him to stay in front of anyone on defense. Furthermore, outside of James Posey, the Hornets don't really have anyone that can make buckets and defend at the same time. In the previous series Peja could be hidden on defense by playing him on Bruce Bowen, because Bruce Bowen just sat in the corner and shot threes, so you just had to keep a hand in his face and try to deny the kickout. However, now Peja has to deal with Richard Jefferson, who is much more aggressive and potent offensively. I think that's part of what would make Jefferson valuable, I feel that part of his work as the key defender, is to make the other team's key player have to work to defend him, whereby giving him less energy to do things on the offensive end. Peja just can't keep up with Jefferson, and Jefferson has the length to hassle him endlessly on the defensive end.
While Morris Peterson is supposed to be a defensive stopper, Byron Scott has stopped playing him in favor of the scoring punch of Rasual Butler and the defensive abilities of Devin Brown, unfortunately, I don't know that either match Ginobili, and tack on a good shooting night from Roger Mason (
who I probably should've compared to Jaren Jackson instead of Steve Kerr
) the wings just aren't there to match. The main issue the Spurs have in any matchup is the fact that no one is really sure what Malik Hairston, Marcus Williams, Marcus Haisliip, and Ian Mahinmi will contribute at the NBA level, but I have confidence in the scouts the Spurs use both overseas and in Austin.
Key Matchups:
Pic via MSNBC
Pics via DayLife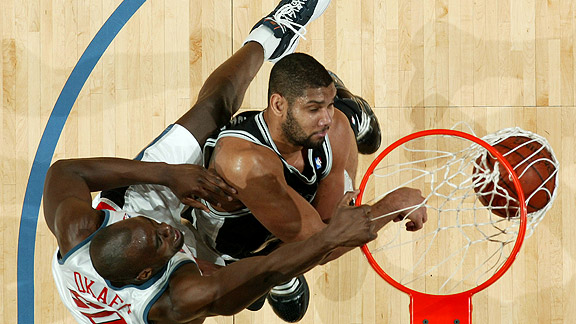 Pic via ESPN